Komunikat
prasowy
09.02.2018
Open letter by Tomasz Mackiewicz's Father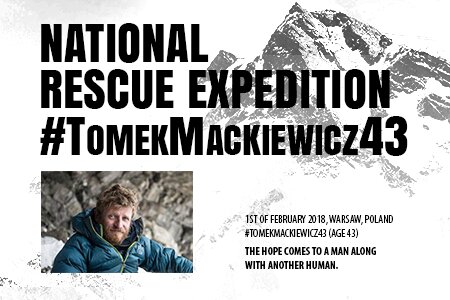 Częstochowa, February 7th 2018
Open letter by Tomasz Mackiewicz's Father
We have been fighting for the life of my Son, Tomasz Mackiewicz, for over a week now, believing that there is still hope. I hear opinions that my faith is irrational and against common sense, stupid even - just like that. My answer is this: far more miraculous things happened out of God's inspiration and if I have no hard evidence for life or death, I will always choose life.
I wrote about the one-hundredth anniversary of #Niepodległa [the Sovereign]. We became sovereign because thousands of Poles gave their life for their Homeland. And what does the situation look like in times of peace? Can the Homeland take care of her children? Will they be met with understanding in extreme situations? Both in national and foreign state offices. I believe it will be so.
Tomasz, going to Nanga, every time (except for the first, reconnaissance expedition) went there under some kind of motto. I remember when he greeted Poland and Poles from Nanga.
Even though he did not enjoy the "blessing" of the Polish mountaineering associations, he always carried the white-and-red flag of Poland there, on top of the world. The fight for the Sovereign entails every-day fight for the image of the Homeland as well. An image showing both in the groundwork, and in its representation in the world.
When the fight with the sword was over, a much harder fight began. Fight for the well-being and image of our Compatriots. In villages under Nanga, not only did Tomasz take advantage of the support offered by journalists, but he also provided the inhabitants, children in particular, with many goods. Whatever he was doing there, providing them with jackets, shoes, sweets and electricity from wind turbines, he was doing as a Pole. Therefore, I received many letters from Pakistan, from ordinary people, but not only, where they promise "that they will do everything they can to save their BROTHER, no matter the costs".
The Pakistani refer to Tomasz as "Our Brother". I feel that the saying that hope dies last is very much true.
Also in Poland, a group appeared which treats Tomasz as their Brother – Pole. It was in this dimension, both for me and for others, that Tomasz grew to become a symbol of the unrelenting, fighting to the glorious end. I see that entire Group as a group of Patriots who, not counting the costs, support me and allow me to believe that Poland Has Not Yet Perished, so long as we fight for one another. I extend my paternal gratitude to all those who have hope fuelled by faith that there is nothing God cannot do.
Best regards,
Witold Mackiewicz
***
I ask all people of good will, who understand and believe in the sense of actions of the Group #43TomekMackiewicz (#Czapkins @Czapkins - Tomek's nickname), to support "1", even with "1 PLN" and to make a payment to the transparent account awarded to us by
the 'Wprost" Foundation: 78 1140 1010 0000 5411 6100 1001 with a note: Jeden / #43TomaszMackiewicz
For more information on contributions, call +48 (22) 347 50 51 or +48 (22) 347 50 50
*Making the payment, you agree for your name and surname and/or company name to be made public. The same applies to all withdrawals from the account.
Info: Tomek.Mackiewicz43@gmail.com
From: GROUP #43TomaszMackiewicz, "1"
We started our actions on the 1st day of the week, on Sunday, January 28th, that is - immediately. On the 1st possible day of the event that happened at 7200 meters on the #KillerMountain, #Nangaparbat, Pakistan.
We organized ourselves spontaneously. First several, then a couple dozen and finally tens of people from various places around the world. The only reason for this spontaneity was the completely falsified interpretation of facts by the global media - the message of which was read by all of us as follows:
"There is no chance whatsoever to save the life of the Pole left in the slit at the altitude of 7200 meters above sea level. He is already dead." A success! The Poles saved Elizabeth #Revol, a French citizen who suffered from 4th degree frostbite! All of her limbs will most probably be amputated... All this was illustrated with the so-called "stock photos", showing black feet and hands - but not hers (Elizabeth's), just presented as hers...
Meanwhile, the social media of our Polish brave heroes featured real photos. Photos of a group of people smiling in bright sunshine and the saved woman - #Revol - with a mobile phone in her hand and standing on her own, saying hello to the French ambassador...
As the Polish Himalayan mountaineer, medical rescuer of the Winter National K2 Expedition - Jarosław Botor, said on February 2nd, after returning to Poland, "Revol was 'in a surprisingly good condition'" (after so many hours spent in the mountains with Tomek) - Polsat News.
GROUP #43TomaszMackiewicz, "1" took action immediately. Already on Monday, January 29th, at 9.00 am, based on the collected data, we were certain that the pole left at 7200 meters above sea level is alive and the rescue action, even if difficult due to weather conditions, should be resumed. Through his manager, the Polish Himalayan mountaineer from the Polish K2 expedition, Adam Bielecki, who participated in the heroic action the day before, has confirmed our opinion. He specified 3 parameters crucial at that moment:
Helicopter operation must be resumed in the next 24 h
Possibility to deliver the Polish Himalayan mountaineers at the altitude of 6500-7000 meters above sea level
Weather conditions - which must allow for such a flight so as not to put health and life at risk.
As early as at 12.00 on January 29th, the competent and experienced representatives of GROUP #43TomaszMackiewicz, "1" presented all collected data and facts to the Ministry of the Foreign Affairs, the operating staff of which conducted the discontinued action that resulted in saving the French citizen...
Then, up to this day, i.e. February 7th 2018 - the team composed of many people works persistently, fighting for resumption and completion of the rescue action, taking lots of unconventional actions, which are, however, fully transparent.
Today's Status, February 7th 2018
GROUP #43TomaszMackiewicz "1"
In agreement with the Father of Tomasz Mackiewicz, and keeping him updated, we continue the fight for resumption and completion of the action referred to as "rescue". Its goal is direct analysis of the course of descend of Tomek and Ela from #NangaParbat. Its purpose is collecting key information needed for effective and immediate rescue actions to save our citizens in the future - according to Art. 36 of the Constitution of the Republic of Poland stipulating that "A Polish citizen shall, during a stay abroad, have the right to protection by the Polish State". We will not cease our efforts until we find proof that #TomekMackiewicz is dead or alive.
Summary of Findings
GROUP #43TomaszMackiewicz "1"
Many Poles, almost the entire country, lived and breathed the tragedy that took place in the Himalayas. We all followed the rescue action taken by the Himalayan mountaineers from K2 to save Elisabeth Revol and Tomasz Mackiewicz.
The rescue expedition was successful thanks to participation of the international GROUP of Polish, Pakistani and Kazakh-Russian (Denis Urubko) rescuers who were supposed to attack K2, but changed their plans to save the Himalayan mountaineers. The success was partial as only Elisabeth Revol was saved.
The rescuers decided that it was impossible to continue climbing as the weather got worse. For various reasons, decision was made to get Revol down and not to go for Mackiewicz.
We learnt that the rescue action was discontinued at that point. Based on Revol's account, it was believed that Mackiewicz is unfit to get down, that he is in a critical condition. What is more, the weather got worse. The group of people of good will could not accept that. The GROUP #43TomaszMackiewicz "1" was formed.
A crisis team was organized spontaneously, people started communicating and wondering if they could leave it like that. The group also included people who used to serve in the army and who follow the rule that you cannot leave a soldier behind. Discontinuation of the rescue activities without certainty about the condition of that man was out of the question.
An intensive information exchange began; the team did everything to involve national institutions, including the Ministry of Foreign Affairs, to see what could be done to resume the action. It just cannot be that we ended with saving one person and came to terms with the not-so-certain fate of the other.
The search of the rescue team and the helicopter. We knew that the participants of the Winter National K2 Expedition 2017/2018, organized by the Polish Mountaineering Association that Tomasz Mackiewicz was not a member of, could not really go back to save Tomek, and they had their own plans, after all.
The crisis group started growing and specialists in different disciplines joined it (now - almost 100 persons). The key thing was to have a team ready when the
weather will allow to act, and to have the equipment (military or civil) that can fly to the necessary altitude to reduce the distance to Tomek as much as possible.
The Pakistani army and government were contacted, and so were the American army representatives. The Polish ambassador in Pakistan - Mr. Opaliński was actively involved.
We stuck to the thought that Tomek might have survived. Everything seemed to prove he was strong. In the camp nearby, the #LifeCamp base, the location of which he knew very well (150 m uphill with moderate height difference), according to the direct account of Revol (link below), there were medications, oxygen, food supplies, and that gave hope that he could live (had he got there).
The military decided that we should fight to the very end and try to save Tomek's life, because there is no clear proof that he died. What is more, it was all about our citizen. A natural reflex - we fight. If we could get Revol down, then why not Tomek? It was an inspiration; it was a natural thing to want to save a human, although we didn't really know anything about his condition.
Today, we know it's difficult to be hopeful. The weather conditions were exceptionally hostile towards the crisis group. The national institutions ceased their actions, claiming there is no chance to find Tomek alive.
Hope dies last; therefore the crisis team is still up. It gained a lot of experience in this type of actions, crisis situations. This will allow for the use of the experience of this group of people in the future. All this allowed to establish contacts, create friendships, cooperation and gave rise to determination to bring aid to those in need.
It resulted from Revol's statement that leaving Tomek behind, she had promised him that helicopters would come with help. It is hard to imagine not taking any action if a man is left with hope. It would be inhumane. When we learnt about it, we were even more convinced that action had to be taken.
Since eagles, birds can fly as high as 8000 meters above sea level, and us, Poles, "have been carrying the white and red flag proudly and high" - as the late President Ryszard Kaczorowski used to say - since we, just like "eagles", climb the highest mountains in the most difficult winter conditions, the most among all nationalities around the world, we count on people of good will from the entire world to support our initiative to which we added "1 one". It is the human, every human being, every human life that is invaluable and that becomes the Priority, the number 1, when he or she has to be saved.
Tomorrow, February 8th 2018
This is why tomorrow, February 8th 2018, another #LifeCamp will be set up - under #NangaParbat. We also request our brothers, the nation of Israel, to set the dispute with Poland about the Nazi death camps aside and direct the energy of the world to the international life camp that we, as civilians from the Group named after #43TomaszMackiewicz, set up at the foot of #KillerMountain, #NangaParbat.
"Whoever saves one life saves the world entire", as a beautiful Jewish saying goes. The Poles saved the most of those lives, of human beings, in the world and we ensure that we will be proud to continue.
***
I ask all people of good will, who understand and believe in the sense of actions of the Group #43TomekMackiewicz (#Czapkins @Czapkins - Tomek's nickname), to support "1", even with "1 PLN" or 1, 10, 100 USD, EUR, GBP, Bitcoin (always a "one" first, e.g. 111) and to make a payment to the transparent* account awarded to us by:
the 'Wprost" Foundation
PL Account Nomber 78 1140 1010 0000 5411 6100 1001 with a note: Jeden / #43TomaszMackiewicz
EUR Account Nomber 51 1140 1010 0000 5411 6100 1002
USD Account Nomber 24 1140 1010 0000 5411 6100 1003
For more information on contributions, call +48 (22) 347 50 51 or +48 (22) 347 50 50
*Making the payment, you agree for your name and surname and/or company name to be made public. The same applies to all withdrawals from the account.
LINKS:
Feb 2018 Group #TomekMackiewicz43 phone conversation with Eli Revol, who is convinced Tomek is alive and she promosed him rescue will be back. Left him with promise & hope! 🙏
Statement by the Group #TomekMackiewicz43
1 Peter, 5:7: "Put all your care upon him [God], because he is seeking you."
http://www.media.pmpg.pl/en/pr/383084/statement-by-the-group-tomekmackiewicz43
Info: Tomek.Mackiewicz43@gmail.com
Bieżące informacje ze spółki spółki PMPG Polskie Media SA (GPW: PMPG) na www.pmpg.pl oraz na profilach w serwisach Twitter: https://twitter.com/PMPG_PL i Facebook: https://www.facebook.com/PMPG.SA.